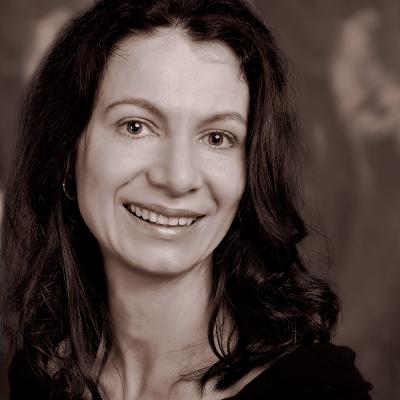 EXECUTIVE COACH — Florentina Nita-Alden comes to the field of executive coaching with 15 years of experience in the entertainment industry and life and wellness coaching. Florentina is the founder of Wellness of Leadership, a Los Angeles based organization whose mission is to empower leaders to radiant health and authentic success, with a focus on self-awareness and self-leadership.
As an Executive Wellness Coach, Florentina designs and implements wellness protocols within healthcare organizations. She provides custom health solutions to health care professionals and their patients, reducing physician burnout and increasing patient satisfaction. Florentina has great skill in assessing the current reality of clients, setting clear goals, and guiding individuals through the action steps necessary to reach their personal and professional goals.
As a Financial Analyst with Motion Picture Development Finance at Paramount Pictures, Florentina served as liaison between Hollywood producers, studio departments, creative executives, Business Affairs, as well as affiliated companies (Famous Music and Premier House). She was responsible for budget analyses of overhead spending for all the Term Deal producers in accordance with contractual agreements.
Due to her ability to resolve conflict and get things done, Florentina was the go-to person in times of crisis at Paramount. In addition, Florentina coordinated and implemented Business Continuity Planning and analyzed critical business processes, following Viacom and Sarbanes-Oxley requirements, for the following departments: Accounting Services, Payroll, Executive Payroll, Accounts Payable, Accounts Receivable, Treasury, Human Resources, and Data Security. She also developed and implemented policies and procedures for Accounting Services and Records Center. Prior to this, Florentina worked in finance and accounting at Warner Music Group in Burbank, CA and at DS Architectural Office in Bucharest, Romania.
Bilingual in English and Romanian, and conversational in Spanish, Florentina is a speaker and workshop facilitator in USA and Europe.
Florentina has a track record of helping highly intelligent and professionally expert clients become effective communicators and changing agents within their corporations. As a strategic, visionary thinker, she has expertise in inspiring people to creatively handle workplace demands while maintaining a focus on life balance issues. Both academically trained and professionally certified, Florentina successfully leverages her real world corporate experience to effectively help leaders grow and optimize their full potential. She believes that the key is in creating healthy environments where vibrant employees can thrive.
SPECIALTIES
---
Corporate Wellness, Doctor Office Integration, Conflict Resolution, Work/Life Balance, Time Management, Leadership and Communication Skills, Stress Reduction, Change and Transformation, Culture Shock, Healthy Environment, Positive Relationships, Collaboration and Teamwork. Certified Health Coach, The Institute for Integrative Nutrition, TLS Weight Loss Coach.
INDUSTRY BACKGROUND & EDUCATION
---
Bachelor's Degree in Accounting and Information Systems, The Academy of Economic Studies, in Romania; Masters in Applied Psychology, University of Santa Monica. Entertainment Management Program, UCLA Extension; American Management Association (Supervision Seminars, Writing Policies and Procedures); The Association for Information Management Professionals
Increased employee attendance and decreased sick days by teaching private clients how to incorporate simple and effective tools into their existing lifestyles and hectic schedules
Coached leaders and professors at UCLA and USC, improving their focus and creativity while significantly reducing their stress levels